Geno Michellini's Turntable Hits - Podcast Archive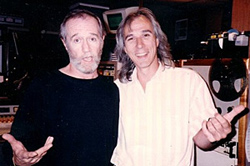 Have you been asking yourself where's Geno, what the hell happened to Michellini? I want to Bang the Drum! I need some real funnies. Well folks, Los Angeles radio legend Geno Michellini is alive and well, and on the internet. Geno Michellini's Turntable Hits broadcasts every single Friday, on the Flying Eye Radio Network playing every color in the musical rainbow. There was a time when the turntable was king and many of the real musical gems were in the deep recesses of those albums that spun on the platter, and those gems could be heard on stations like KMEL & KOME in the bay area. It is what FM radio once was, and will never be again. It is the music you turned on the black light and turned up the volume. You say you want to Bang the Drum! Have no fear Geno is here. What better way to end your week?!?! It is easy to subscribe to the podcasts.
Podcast Archive
To download any of the podcasts below to your computer or iPod right click your mouse on the archive link and for FireFox choose "Save Link As" and save it to your hard drive, and "Save Target As" for IE, to download the podcast to your computer desktop.
Displaying 1 thru 25 of 151 Podcasts
Air Date
Title
06/14/2013
TTH's Vol 151, "Center Square For the Win"
New music from ROD STEWART, SANDI THOM, JAMES MORRISON, ALICE IN CHAINS, SOUNDGARDEN, JOHN FOGERTY, DAWES, ERIC BURDON, JOE BONAMASSA, OCEAN COLOUR SCENE & HUGH LAURIE (HOUSE) / Flyingeye Funnies w/ Paul Lynde, Richard Pryor and Tim Allen / 'BANG THE DRUM' / Happy Birthday Sir Paul!
Listen | Download Podcast
06/07/2013
TTH's Vol 150, "Fly High and Save the Peanuts"
With new music from ALICE IN CHAINS, JOE BONAMASSA, SANDI THOM, JAKE BUGG, JOHN FOGERTY, BOB SEGER, THE FOO FIGHTERS, ROD STEWART, IGGY & THE STOOGES, HUGH LAURIE, HEAVEN AND EARTH / Flyingeye Funnies with CHRIS RUSH, DAVE ATTELL, BOBBY COLLINS, DENNIS WOLFBERG & RICHARD JENI /"BANG THE DRUM!"
Listen | Download Podcast
05/31/2013
TTH's Vol 149, "Segue City"
New music from JOHN FOGERTY & FRIENDS, more from the LOVE FOR LEVON CONCERT, new British artist SANDI THOM, JOE BONAMASSA, ERIC BURDON, the WALLFLOWERS, THE KILLERS, ROD STEWART / Flyingeye Funnies from CHRIS FONSECA & JEFF CAESARIO/ celebrating some major Rock n Roll bithdays / 'BANG THE DRUM!'
Listen | Download Podcast
05/24/2013
"The Return of Turntablehits, It's About TIME" Vol 148
New music from ROD STEWART, BEX MARSHALL, JOE BONAMASSA, 'THE LOVE FOR LEVON' CONCERT, ERIC BURDON/ Flying Eye Funnies with GEORGE CARLIN & DENNIS WOLFBERG, remembering TOM DONAHUE/ 'BANG THE DRUM!!'
Listen | Download Podcast
04/26/2013
TTH's "The Killer Show, Literally"
With new music from HEART, THE KILLERS, STEPHEN STILLS, JOE WALSH, JOAN OSBORNE, RON TANSKI, ROOT BOY SLIM, ERIC BURDON, JAKE BUGG & JOE BONAMASSA / Flyingeye Funnies with BILL ENGVALL, GEORGE CARLIN, WOODY ALLEN & JOHN CAPONERA /Rock Notes and Forgettable Dates, Birthdays, resquests & BANG THE DRUM!!
Listen | Download Podcast
04/19/2013
TTH's Vol 146, "Celebrating National Smoke Your Record Store Day"
New music from JAKE BUGG, ERIC BURDON, JESSE BARISH, STEPHEN STILLS, DAVID BOWIE, FIVE FINGER DEATH PUNCH, ROOT BOY SLIM & THE SEX CHANGE BAND, RICHARD THOMPSON / Flyingeye Funnies w RICHARD JENI, FRANKLYN AJAYE, EDDIE IZZARD, CRAIG SHOEMAKER, CHEECH N CHONG, CHRIS RUSH, ROBERT KLEIN & more/ 'BANG THE DRUM' for National Pot Day!! / Remembering Dick Clark.
Listen | Download Podcast
04/12/2013
TTH's Vol 145, "The Sam/Bo Show",( pg rated so call yo mama)
Remembering Sam Kinison, with archival live material/ New Music from ERIC BURDON, HEAVEN & EARTH, DAVID BOWIE, ROOT BOY SLIM AND THE SEX CHANGE BAND, JESSE BARISH, JAKE BUGG & JOE BONAMASSA/ Flyingeye Funnies with SAM KINISON, ADAM FERARRA, BILL ENGVALL & BOBBY SLAYTON/ "BANG THE DRUM!!"
Listen | Download Podcast
04/05/2013
TTH's Vol 144 "It's As Clear As Mud"
Happy Birthday MUDDY WATERS and GARY MOORE/ New music from ERIC BURDON, THE ROLLING STONES w/MUDDY WATERS, STEPHEN STILLS, JESSE BARISH, THE BLACK TONGUED BELL, ROD STEWART , HEAVEN AND EARTH /Flyingeye Funnies with CRAIG SHOEMAKER, TIM ALLEN & RON SHOCK/ 'BANG THE DRUM!!!'
Listen | Download Podcast
03/29/2013
TTH's Vol 143, "The All Fools Day Show"
New Music from HEAVEN AND EARTH, JESSE BARISH, ERIC BURDON, ERIC CLAPTON, BLACK TONGUED BELLS, BOZ SCAGGS, JOE BONAMASSA w/BETH HART and more/ Flyingeye Funnies with George Carlin, Robert Klein, Don MacMillan, Franklyn Ajaye, Murray Roman/ "Bang the Drum"!! /Happy Birthday Slowhand.
Listen | Download Podcast
03/22/2013
TTH'S Vol 142, "Goin' Up From Down Under" Happy Birthday Chico Marx
New music from ROD STEWART, ROBIN TROWER, BOZ SCAGGS, JESSE BARISH, DAVID BOWIE, ELO, ERIC BURDON, RY COODER, JOE BONAMASSA, ERIC CLAPTON, THE BLACK TONGUED BELLS, TERRY HENDRIX & JAKE BUGG/ Flyingeye Funnies with CHICO MARX, CARL REINER AND MEL BROOKS, BRIAN REAGAN, BILLY CONNOLLY & MARY ELLEN HOOPER/ 'Bang the Drum!!'
Listen | Download Podcast
03/15/2013
TTh's Vol 141, "The BIG Train Show"
Happy St Patricks' Day! New music this week from BOZ SCAGGS, ERIC BURDON, ERIC CLAPTON, THE BLACK TONGUED BELLS, JESSE BARISH, JACK MACK AND THE HEART ATTACK, JOE BONAMASSA, DAVID BOWIE TERRI HENDRIX, JAKE BUGG & more/ Flyingeye Funnies from GEORGE CARLIN, J.J.WALL, ADAM FERRARA & STEVE ALTMAN/ 'BANG THE DRUM!!
Listen | Download Podcast
03/08/2013
TTH's Vol 140, "You Must Be Jukin', this one's for Alvin"
New music from ALVIN LEE, joe Bonamassa, Jesse Barish, the Black Tongued Bells, Soundgarden, Aerosmith, Robin Trower, Peter Frampton and more /Flyingeye Funnies from THE SMOTHERS BROTHERS, CRAIG SHOEMAKER, JEFF ALTMAN & FATHER GUIDO SARDUCCI / "BANG THE DRUM".
Listen | Download Podcast
03/01/2013
TTH's Vol 139, "March Madness", this one's for Dangerous Dan
New music from ROBIN TROWER, JACK MACK AND THE HEARTATTACK, JAKE BUGG, AEROSMITH, JOAN OSBORNE, JOE BONAMASSA, JOHN HIATT, THE KILLERS, THE WALLFLOWERS,MADNESS, ERIC CLAPTON & more / Flyingeye Funnies with John Caponera, Tom Parks (Happy Birthday Tom), George Carlin & John Belushi / It's the March Madness "BANG THE DRUM" / Remembering a good friend and a great guitar player Dangerous Dan Toler.
Listen | Download Podcast
02/22/2013
TTH's Vol 138, "Anybody Know What Day It Is?"
Answering the Question, "How Hard Is It?" /New Music from Soundgarden, Eric Clapton, The Original Wailers, Phil Parlapiano, Jack Mack & the Heart Attack, Aerosmith, Mark Knopfler, Jeff Lynne,Joan Osborne, Madness and something 'special' from Joe Walsh /Flying Eye Funnies with Hudson and Landry, Franklyn Ajaye, Robert Klein, Mark Eddie and Tom Parks plus we'll be reading from the 'Child's Garden of Grass' / It's National Margarita Day, BANG THE DRUM!!
Listen | Download Podcast
02/15/2013
TTH's Vol 137, "A Small Sip For Man, A Big Drip For Mankind"
Funnies From CHRISS BLISS, ADAM FERRARA, BOBBY SLAYTON & ROCKY LaPORTE /New music from ERIC CLAPTON, SOUNDGARDEN, AEROSMITH, JACK MACK AND THE HEART ATTACK, JAKE BUGG, IAN HUNTER, PETER FRAMPTON, JOE BONAMASSA & more/ Live Jive from San Francisco / "BAND THE DRUM"
Listen | Download Podcast
02/08/2013
TTH Vol 136, "It's The Year Of The Snake"
New music from Aerosmith, Soundgarden, Joan Osborne, Jake Bugg, Kasabian, Kaiser Cheifs, Graham Parker and the Rumor, Joe Bonamassa, Madness, Jack Mack and the Heart Attack and more/ Flyingeye Funnies from DUDLEY MOORE & PETER COOK, BILL ENGVALL, BOB DUBAC, RICHARD JENI & RON WHITE/ "Bang the Drum"/ GUNG HAY PHAT CHOY!!!
Listen | Download Podcast
02/01/2013
TTH's Vol 135, "The Turntablehits PRE Pregame Show"
More New music from Soundgarden, Aerosmith, Graham Paker & the Rumor, Joan Osborne, LIVE JIVE FROM SAN FRANCISCO with Boz Scaggs, Peter Frampton, Joe Bonamassa, Jake Bugg, Wallflowers, Arctic Monkeys, Ian Hunter and the Rant Band & more/ Flyingeye Funnies from the Portsmouth Sinfonia, a Classic from Hudson & Landry, Eddie Izzard, Kenny Rogerson & Richard Jeni/ A Super Bowl 'BANG THE DRUM! New Orleans here we come!
Listen | Download Podcast
01/25/2013
TTH Vol 134, Turntablehits Goes GOLD!!
New music this week from JOAN OSBORNE, PETER FRAMPTON, SOUNDGARDEN, AIEROSMITH, THE Emmy Nominated BLACK KEYS, IAN HUNTER, WALLFLOWERS, MATCHBOX 20, GRAHAM PARKER AND THE RUMOR, ARCTIC MONKEYS, OCEAN COLOUR SCENE and more/ Flyingeye Funnies from ADAM FERRARA, DENNIS WOLFBERG, ROWAN ATKINSON & HUCK FLYNN / 'BANG THE DRUM'!!!
Listen | Download Podcast
01/18/2013
TTH's Vol 133, "The Goldlen Age Of FM, LIVE JIVE From San Francisco"
Celebrating LIVE JIVE 95 KSAN San Francisco, also with new music from SOUNDGARDEN, AEROSMITH, KASABIAN, JAKE BUGG, GRAHAM PARKER AND THE RUMOR, JOE BONAMASSA w/PAUL RODGERS, MARK KNOPFLER,DONALD FAGEN, IAN HUNTER AND THE RANT BAND and more/ Flyingeye Funnies with GEORGE CARLIN, TOM PARKS & BOB DUBAC/ 'BANG THE DRUM~!!'
Listen | Download Podcast
01/11/2013
TTH Vol 132, "The ART Lover's Show"
New Music from GRAHAM PARKER & THE RUMOR, SOUNDGARDEN, AEROSMITH, PETER FRAMPTON, JAKE BUGG, KASABIAN, JOE BONAMASSA w BETH HART, DONALD FAGEN, IAN HUNTER and more/ LIVE JIVE from the golden era of KSAN SAN FRANCISCO, Flyingeye Funnies with MEL & CARL, BRIAN REGAN, LARRY MILLER & HUDSON & LANDRY/ 'BANG THE DRUM'!!!
Listen | Download Podcast
01/04/2013
TTH Vol 131, "The THANK GOD IT'S THE NEW YEAR Show"
With new music from SOUNDGARDEN, AEROSMITH, JAKE BUGG, KASABIAN, ELBOW, THE KILLERS, JOE BONAMASSA w JOHN HIATT, DONALD FAGEN and more/ THE FLYINGEYE FUNNIES w Steve McGrew and KENNY ROGERSON/ The first 'Bang the Drum of the New Year including a German Surf Band! /It's the anniversary of the first ACID TEST!
Listen | Download Podcast
12/14/2012
TTH's Vol 130,"The End Of The World Xmas Show", it's MADNESS I tell ya!
New music from MADNESS, SOUNDGARDEN, AEROSMITH, PETER FRAMPTON, JOE BONAMASSA with PAUL RODGERS and more/ Flyingeye Funnies from CHRIS RUSH, KATHLEEN MADIGAN, BILL ENGVALL, DREW CAREY & JOE YANETTI / "BANG THE DRUM!!!
Listen | Download Podcast
12/07/2012
TTH's Vol 129, The pre Holiday HOLIDAY SHOW Show
Brand new music from SOUNDGARDEN, AEROSMITH, PETER FRAMPTON, GARY MOORE, IAN HUNTER, DONALD FAGEN, JETS OVERHEAD, THE KILLERS, MATCHBOX TWENTY, ALVIN LEE, MARK KNOPFLER & more/ Flyineye Funnies from STAN FREBERG, ADAM FERRARA, RICH SHYDNER, TOM RHODES, "BANG THE DRUM".
Listen | Download Podcast
11/30/2012
TTH's Vol 128, The "Great Bonzos" Show
New music from "THE" PHIL JONES, unreleased music from PAUL BARERRE of LITTLE FEAT, GARY MOORE 'LIVE', MARK KNOPFLER, MATCHBOX 20, ALVIN LEE, THE KILLERS,IAN HUNTER, BONNIE RAITT, WALLFLOWERS, DONALD FAGEN/ Flyingeye Funnies from CHRIS BLISS, RON WHITE, RON SHOCK and BRIAN REGAN/ 'BANG THE DRUM!'
Listen | Download Podcast
11/16/2012
TTH's Vol 127, The Long Version
More from the new releases by PAUL BARERRE, GARY MOORE, IAN HUNTER, MATCHBOX 20, MARK KNOPFLER, 'THE' PHIL JONES, THE BLACK KEYS,WALLFLOWERS, DONALD FAGEN, ALVIN LEE, DION, THE KILLERS, TRAIN w ASHLEY MONROE/ Flyingeye Funnies with ROBERT KLEIN, GEORGE CARIN & GEORGE LOPEZ/ 'BANG THE DRUM! It's long version day!!
Listen | Download Podcast
Page 1 2 3 4 5 6 7 Show All