Rock, Rhythm & Roots - Podcast Archive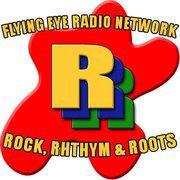 The music lovers show hosted by Steve Cosio, the third leg of the Flying Eye stool. Steve is a Golden Mike winner, on multiple occasions and currently hails from Mansfield, Texas. Steve covers a wide swath of musical tastes and genres and is a tremendous addition to the Flying Eye Radio Network. He will broadcast semi-live podcasts once a week. Music from the old vinyl recordings some of you may remember will emanate as we use the way back machine, so stay tuned. It is easy to subscribe to the podcasts.
Podcast Archive
To download any of the podcasts below to your computer or iPod right click your mouse on the archive link and for FireFox choose "Save Link As" and save it to your hard drive, and "Save Target As" for IE, to download the podcast to your computer desktop.
Displaying 1 thru 25 of 87 Podcasts
Air Date
Title
05/07/2013
Standing at the Crossroads
Rock, Rhythm & Roots (The Music Lover's Radio Show) is on the air -- it's a podcast, folks, you can listen at your convenience. This week's show features music by Jack Mack & The Heart Attack, J.J. Cale, Steve Miller, Ry Cooder, Susan Tedeschi, Gram Parsons, Rick Derringer, Joe Bonamassa, Vince Gill, and a whole lot more! Also, musical birthdays and Forward Into The Past. See ya on the radio! LIKE us here: http://www.facebook.com/rrrradioshow
Listen | Download Podcast
04/30/2013
JazzFest 2013 Tribute
Rock, Rhythm & Roots (The Music Lover's Radio Show) is on the air -- it's a podcast, folks, you can listen at your convenience. This week's show features music by those who performed (or will perform) at this year's New Orleans Jazz and Heritage Festival including: Willie Nelson, Calexico, Wayne Shorter, Bonerama, Sonny Landreth, Iguanas, Irma Thomas, Bluesiana, Gary Clark Jr, BB King w/ Ivan Neville's Dumpstaphunk, and much more. See ya on the radio! LIKE us here: http://www.facebook.com/rrrradioshow
Listen | Download Podcast
04/23/2013
North of West
Rock, Rhythm & Roots (The Music Lover's Radio Show) is on the air -- it's a podcast, folks, you can listen at your convenience. This week's show features music by Miranda Lambert, Leon Russell, Albert Lee, Peter Weller, Glen Campbell, Dan Hicks & His Hot Licks, 2Cellos, Bobby McFerrin, and a whole lot more! Also, musical birthdays another Song That Shaped Rock & Roll, and Forward Into The Past. See ya on the radio! LIKE us here: http://www.facebook.com/rrrradioshow
Listen | Download Podcast
04/16/2013
Show Me The Money
Rock, Rhythm & Roots (The Music Lover's Radio Show) is on the air -- it's a podcast, folks, you can listen at your convenience. This week's show features music by Jason Elmore and Hoodoo Witch, Dr. Wu & Friends, Inner City All-Stars, Sly and the Family Stone, Allman Brothers Band, Julie London, Jethro Tull, George Duke, Old 97's and a whole lot more. Also, Forward Into The Past. See ya on the radio! LIKE us here: http://www.facebook.com/rrrradioshow
Listen | Download Podcast
04/02/2013
Turn On or Tune Out
Rock, Rhythm & Roots (The Music Lover's Radio Show) is on the air -- it's a podcast, folks, you can listen at your convenience. This week's show features music by Alvin Lee, Roger Waters, Alan Haynes, Southside Johnny & The Asbury Jukes, Fleetwood Mac, Marvin Gaye, Hayes Carll, Mel Torme & Buddy Rich, Allman Joys and a whole lot more. Also, another Song That Shaped Rock & Roll, and Forward Into The Past. See ya on the radio! LIKE us here: http://www.facebook.com/rrrradioshow
Listen | Download Podcast
03/26/2013
Peace Be With You
Rock, Rhythm & Roots (The Music Lover's Radio Show) is on the air -- it's a podcast, folks, you can listen at your convenience. This week's show features music by The Blind Boys of Alabama, The Derek Trucks Band, Ray Wylie Hubbard, Alison Krauss, Delbert McClinton, Leon Russell, Tom Waits, Steve Earle, Joe Bonamassa and much more! Also, Forward Into The Past. See ya on the radio! LIKE us here: http://www.facebook.com/rrrradioshow
Listen | Download Podcast
03/19/2013
March Madness
Rock, Rhythm & Roots (The Music Lover's Radio Show) is on the air -- it's a podcast, folks, you can listen at your convenience. This week's show features music by Madness, The Tubes, Terri Hendrix, Brenda Lee, Lucinda Williams, The Staple Singers, Stray Cats, Lyle Lovett, Frijid Pink, and a whole lot more. Also, another Song That Shaped Rock & Roll, and Forward Into The Past. See ya on the radio! LIKE us here: http://www.facebook.com/rrrradioshow
Listen | Download Podcast
03/12/2013
Heaven Is In Your Mind
Steve is off this week enjoying Spring Break with his family. Please enjoy a repeat from March 13, 2012. Rock, Rhythm & Roots (The Music Lover's Radio Show) is on the air -- it's a podcast, folks, you can listen at your convenience. This week's show features music by BeauSoleil, Buckwheat Zydeco, Calexico, C.J. Chenier, Clifton Chenier, Delbert McClinton, Dierks Bentley, Eve Selis, J.J. Cale, Jerry Jeff Walker, Joan Armatrading, Leon Redbone, Loggins & Messina, Old 97's, Rory Gallagher, Ryan Bingham, Sopwith Camel, The Fireballs, The Who, Three Dog Night, and a whole lot more! Also, News From Around The Globe, Forward Into The Past, and Musical Birthdays. See ya on the radio! LIKE us here: http://www.facebook.com/rrrradioshow
Listen | Download Podcast
03/05/2013
Oh Happy Day
Rock, Rhythm & Roots (The Music Lover's Radio Show) is on the air -- it's a podcast, folks, you can listen at your convenience. This week's show features music by Eve Selis, The Beat Farmers, Norah Jones, Yes, Taj Mahal, Pink Floyd, Ginger Leigh Band, Slade, The Pogues, and a whole lot more. Also, Musical Birthdays, another Song That Shaped Rock & Roll, and Forward Into The Past. See ya on the radio! LIKE us here: http://www.facebook.com/rrrradioshow
Listen | Download Podcast
02/26/2013
Got My Mojo Workin'
Rock, Rhythm & Roots (The Music Lover's Radio Show) is on the air -- it's a podcast, folks, you can listen at your convenience. This week's show features music by Jason Elmore & Hoodoo Witch, Jim Suhler & Monkey Beat, Ray Wylie Hubbard, Terri Hendrix, Whiskey Folk Ramblers, Mungo Jerry, The Whiskey Sisters, Neil Young, Irma Thomas, Conway Twitty, Buddy Holly, and a whole lot more. Also, Musical Birthdays, another Song That Shaped Rock & Roll, and Forward Into The Past. See ya on the radio! LIKE us here: http://www.facebook.com/rrrradioshow
Listen | Download Podcast
02/12/2013
Laissez Les Bon Temps Rouler!
Rock, Rhythm & Roots (The Music Lover's Radio Show) is on the air (and it's Fat Tuesday!) -- it's a podcast, folks, you can listen at your convenience. This week's show features Mardi Gras music by Dr. John, The Neville Brothers, Kermit Ruffins, Zachary Richard, Keb Mo, John Boutte, Buckwheat Zydeco, C.J. Chenier, and a whole lot more. Also, Forward Into The Past. See ya on the radio! LIKE us here: http://www.facebook.com/rrrradioshow
Listen | Download Podcast
02/05/2013
Turn Out The Lights
Rock, Rhythm & Roots (The Music Lover's Radio Show) is on the air -- it's a podcast, folks, you can listen at your convenience. This week's show features music by Gary Clark, Jr., Annie Lennox, Steve Earle, Robert Earl Keen, Lyle Lovett, Joan Osborne, Ryan Adams & The Cardinals, Delbert McClinton, Paul Butterfield Blues Band, Little Junior Parker, and a whole lot more. Also, another Song That Shaped Rock & Roll, and Forward Into The Past. See ya on the radio! LIKE us here: http://www.facebook.com/rrrradioshow
Listen | Download Podcast
01/29/2013
You Are The Steely to My Dan
Rock, Rhythm & Roots (The Music Lover's Radio Show) is on the air -- it's a podcast, folks, you can listen at your convenience. This week's show features music by Earl Thomas, Robben Ford, Old Crow Medicine Show, J.J. Cale, Gregg Allman, Richie Barron, Aretha Franklin, Gene Harris and, of course, Steely Dan, and a whole lot more. Also, another Song That Shaped Rock & Roll, and Forward Into The Past. See ya on the radio! LIKE us here: http://www.facebook.com/rrrradioshow
Listen | Download Podcast
01/22/2013
Here Today - Gone Tamale
Rock, Rhythm & Roots (The Music Lover's Radio Show) is on the air -- it's a podcast, folks, you can listen at your convenience. This week's show features music by Maria Muldaur, Gipsy Kings, Al Jarreau, Jim Suhler & Monkey Beat, The Kingston Trio, Al DiMeola, Merle Haggard, Roy Buchanan and a whole lot more! Also, Forward Into The Past. See ya on the radio! LIKE us here: http://www.facebook.com/rrrradioshow
Listen | Download Podcast
01/15/2013
Let's All Go To The Movies!
Rock, Rhythm & Roots (The Music Lover's Radio Show) is on the air -- it's a podcast, folks, you can listen at your convenience. This week's show features music by Delbert McClinton, Nancy Sinatra, Good Shive Low, Willie Nelson, Pat Green, Etta James, Brandi Carlile, Wesley Pruitt Band and a whole lot more! Also, another Song That Shaped Rock & Roll, and Forward Into The Past. See ya on the radio! LIKE us here: http://www.facebook.com/rrrradioshow
Listen | Download Podcast
01/08/2013
Welcome to the New Year!
Rock, Rhythm & Roots (The Music Lover's Radio Show) is on the air -- it's a podcast, folks, you can listen at your convenience. This week, as we get you ready for the holidays, features music by Omar and the Howlers, Bugs Henderson, King Curtis, Johnny Winter, Jerry Jeff Walker, Ray Wylie Hubbard, Buddy Guy, Donald Fagen, Dave Matthews Band, Dr. John, Albert Collins and a whole lot more. Also, another Song That Shaped Rock & Roll, Musical Birthdays, and Forward Into The Past. See ya on the radio! LIKE us here: http://www.facebook.com/rrrradioshow
Listen | Download Podcast
12/18/2012
Merry Christmas From The Family
Rock, Rhythm & Roots (The Music Lover's Radio Show) is on the air -- it's a podcast, folks, you can listen at your convenience. This week, as we get you ready for the holidays, features music by Skeeter Davis, Buck Owens, Cyndi Lauper, Albert King, Charles Brown, The Whirling Dervishes, Hayes Carll, Robert Earl Keen, and more. Also, another Song That Shaped Rock & Roll, and Forward Into The Past. See ya on the radio! LIKE us here: http://www.facebook.com/rrrradioshow
Listen | Download Podcast
12/11/2012
I Love The Life I Live
Rock, Rhythm & Roots (The Music Lover's Radio Show) is on the air -- it's a podcast, folks, you can listen at your convenience. This week features music by Old 97's, The Mother Truckers, Eric Johnson, Gary Clark, Jr., Desmond Dekker, Al Kooper, Bobby McFerrin, Neil Young, Madness, Moby, and more. Also, another Song That Shaped Rock & Roll, and Forward Into The Past. See ya on the radio! LIKE us here: http://www.facebook.com/rrrradioshow
Listen | Download Podcast
12/04/2012
Pigs Can Fly!
Rock, Rhythm & Roots (The Music Lover's Radio Show) is on the air -- it's a podcast, folks, you can listen at your convenience. This week features music by Emmylou Harris, Billy Vera, Joe Ely, Stewart Mann & the Statesboro Revue, Tina Turner, Ruby Wilson, The Queen of Beale Street, Vince Guaraldi and more. Also, another Song That Shaped Rock & Roll, musical birthdays, flying pigs and Forward Into The Past. See ya on the radio! LIKE us here: http://www.facebook.com/rrrradioshow
Listen | Download Podcast
11/27/2012
One Before 69
Rock, Rhythm & Roots (The Music Lover's Radio Show) is on the air -- it's a podcast, folks, you can listen at your convenience. This week we roll some music from Texas never played before on Rock Rhythm & Roots as well as tunes by Waylon Jennings, Gary Clark Jr., Omar and the Howlers, Stevie Ray Vaughan, Randy Newman, Elvis Presley, Matthew Sweet, Sonny Boy Williamson I, John Waite, and a whole lot more. Also, another Song That Shaped Rock & Roll, and Forward Into The Past. See ya on the radio! LIKE us here: http://www.facebook.com/rrrradioshow
Listen | Download Podcast
11/20/2012
A God As My Witness, I Thought Turkeys Could Fly
Rock, Rhythm & Roots (The Music Lover's Radio Show) is on the air -- it's a podcast, folks, you can listen at your convenience. This week we give thanks, celebrate the birthday of a great guitarist, tell you how to get banned from the Ed Sullivan Show and talk turkey with music by Lenny Kravitz, Maria Muldaur, Johnny Cash, Steve Winwood, Jimmy Reed, The O'Jays, Cross Canadian Ragweed, and a whole lot more. Also, another Song That Shaped Rock & Roll, and Forward Into The Past. See ya on the radio! LIKE us here: http://www.facebook.com/rrrradioshow
Listen | Download Podcast
11/13/2012
Rocky Mountain High
Rock, Rhythm & Roots (The Music Lover's Radio Show) is on the air -- it's a podcast, folks, you can listen at your convenience. This week's show features music by Cab Calloway, Tom Petty, Old 97's, Flying Burrito Brothers, Marc Cohn, String Cheese Incident, and a whole lot more. Also, another Song That Shaped Rock & Roll, and Forward Into The Past. See ya on the radio! LIKE us here: http://www.facebook.com/rrrradioshow
Listen | Download Podcast
11/06/2012
Vote For Me!
Rock, Rhythm & Roots (The Music Lover's Radio Show) is on the air -- it's a podcast, folks, you can listen at your convenience. This week's show features music by Joe Jackson, J.J. Cale, Hank Williams Jr., Lyle Lovett, John Prine, Joe Walsh, Ian Hunter, Elmore James, Taj Mahal, Rosie Flores, Gary Clark, Jr., Bob James, and a whole lot more. Also, another Song That Shaped Rock & Roll, Musical Birthdays, and Forward Into The Past. See ya on the radio! LIKE us here: http://www.facebook.com/rrrradioshow
Listen | Download Podcast
10/30/2012
A Broom Is Not The Only Thing That Sweeps
Rock, Rhythm & Roots (The Music Lover's Radio Show) is on the air -- it's a podcast, folks, you can listen at your convenience. This week's show features a salute to the World Series winning San Francisco Giants, Hurricane Sandy and Halloween with music by Train, Great White, Tom Jones, David Bowie, Buck Owens, Tom Waits, new Donald Fagen, Black Keys, and much more. Also, another Song That Shaped Rock & Roll, and Forward Into The Past. See ya on the radio! LIKE us here: http://www.facebook.com/rrrradioshow
Listen | Download Podcast
10/23/2012
Texas Toast
Rock, Rhythm & Roots (The Music Lover's Radio Show) is on the air -- it's a podcast, folks, you can listen at your convenience. This week's show features a salute to Big Tex and the World Series with music by Social Distortion, Buckwheat Zydeco, Joe Walsh, Train, Motley Crue, and more. Plus, new music from Donald Fagen, Alvin Lee and Paul Barrere, and a whole lot more! Also, another Song That Shaped Rock & Roll, and Forward Into The Past. See ya on the radio! LIKE us here: http://www.facebook.com/rrrradioshow
Listen | Download Podcast
Page 1 2 3 4 Show All