Music Gumbo - Podcast Archive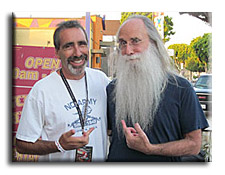 Music Gumbo exquisitely prepared by Nobel Laureate, Andy Goldfinger. This program offers the listener all the colors of the musical spectrum. You will hear it all here. A veritable potpourri of musical comestibles. The listener will hear a confluence of music that blurs all lines that exist, mixing jazz, reggae, classic rock and roll and country. Interviews with some interesting characters new and old. Requests for songs or sets are more than welcome. We broadcast LIVE Monday thru Friday 10am PST. Music from the old vinyl recordings some of you may remember will emanate as we use the way back machine, so stay tuned. It is easy to subscribe to the podcasts.
Podcast Archive
If you would like to view the complete Music Gumbo archive please visit our Patreon page and subscribe.

Displaying 1 thru 5 of 1037 Podcasts
Patreon Members Click Here
Air Date
Title
12/01/2023
We Can Sure Use A Weekend
New Candace Ivory, Bobby Vega, Christone "Kingfish" Ingram, Daniel Donato, Stephen Marley, The Cartoon Orchestra + Fiona Apple, Graham Parker, Robert Cray, Gin Blossoms, Etta Baker, Mose Allison & more… Birthdays for Bette Midler, John Densmore, Gilbert O'Sullivan, Billy Paul, Eric Bloom, Jaco Pastorius, Lou Rawls
Listen To The Podcast
11/28/2023
Tuesday Is Not Just For Tacos
New Pandemonium Handshake, Kurt Vile, Kenny Wayne Shepherd, Eric Hilton, Stephen Marley + Big Mama Thornton, Martha & The Muffins, Traveling Wilburys, Jason Sinay, Brian Setzer & more… Birthdays for Paul Shaffer, Randy Newman, Berry Gordy, Ray Perkins #judithowen #littlefeat #dirtyknobs
Listen To The Podcast
11/23/2023
Join Us For The 17th Annual Music Gumbo Thanksgiving Spectacular...
New Van Morrison, Marcus Rezak, Marcel Smith, Jobi Riccio + Charlie Watts, Liberace, Dave Alvin, Natalie Cole, Aretha, Nancy Pate, Jason Mraz, The Kooks & more… Birthdays for Betty Everett, Miley Cyrus, Bruce Hornsby, Halina Janusz #charleycrockett #littlefeat #dirtyknobs
Listen To The Podcast
11/22/2023
It's The Pre Thanksgiving Soiree
New Bees Deluxe, Ben Cook-Feltz, Brittany Howard, Marcel Smith, The Dig 3, Van Morrison, Marcus Rezak + Sade, Buddy Miles, Chick Corea, Counting Crows, Soul Vibrator, Sonic Bent & more… Birthdays for Floyd Sneed, Steve Van Zandt, Tina Weymouth, Jesse Colin Young #tajmahal #littlefeat #dirtyknobs
Listen To The Podcast
11/07/2023
So What If It's Tuesday
New Daniela Galhoz, Familiar Faces, Apollo Suns, Grace Potter, Coco Montoya, Candice Ivory, Jimmy Buffett + Jon Batiste, Bobby Cochran, Poncho Sanchez, Concrete Blonde, Beth Hart & more… Birthdays for Joni Mitchell, Johnny Rivers, Al Hirt, Lorde #samanthafish #littlefeat
Listen To The Podcast