Music Gumbo - Podcast Archive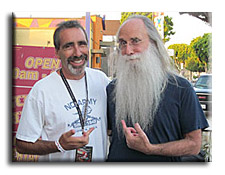 Music Gumbo exquisitely prepared by Nobel Laureate, Andy Goldfinger, palease. This program offers the listener all the colors of the musical spectrum. You will hear it all here. A veritable potpourri of musical comestibles. The listener will hear a confluence of music that blurs all lines that exist, mixing jazz, reggae, classic rock and roll and country. Interviews with some interesting characters new and old. Requests for songs or sets are more than welcome. We will broadcast semi-live podcasts once a week. Music from the old vinyl recordings some of you may remember will emanate as we use the way back machine, so stay tuned. It is easy to subscribe to the podcasts.
Podcast Archive
To download any of the podcasts below to your computer or iPod right click your mouse on the archive link and for FireFox choose "Save Link As" and save it to your hard drive, and "Save Target As" for IE, to download the podcast to your computer desktop. If you would like to view the complate Music Gumbo archive please visit our Patreon page and subscribe.

Displaying 1 thru 5 of 771 Podcasts
Patreon Members Click Here
Air Date
Title
11/27/2020
Best Recovery Medicine From Your Food Coma Is Music Gumbo
New releases from Sault, Cat Ridgeway, The Dirty Knobs, Gillian Welch, New Orelans High Society, Midnight Oil. Tom Petty… From the musical pantry Ace Of Cups, Walt McKeon, Robert Randolph, Bonnie Raitt, Larkin Poe, Dave Pike, Judith Owen, Royal Jelly Jive, Robert Palmer… Birthdays for Randy Brecker, Dave Winthrop, John McVie, Jimi Hendrix, Tina Turner, Randy Newman, Al Jackson…
Listen To The Podcast
11/23/2020
I Have Returned, New Music Monday, And Stories...
New releases from The Dirty Knobs, Gillian Welch, New Orelans High Society, Midnight Oil. Tom Petty… From the musical pantry Natalie Cole, Eric Clapton, Screamin Jay Hawkins, Samantha Fish, Neil Young, Randy Newman, Traffic, Hot Tuna, Todd Snider, Reverend Freakshow, Curtis Mayfield… Birthdays for Bruce Hornsby, Tina Weymouth, Duck Dunn…
Listen To The Podcast
11/02/2020
Halloween? Ha, It's The Night Before The Most Historic Election In U S History
New releases from Dave Brubeck, Be Steadwell, Ace Of Cups, Norah Jones… From the musical pantry Etta James, David Lindley, Squirrel Nut Zippers, Herb Alpert, Dirty Knobs, Lizzo, Warren Zevon, Al Green… Birthdays for Adam Ant, Earl "Speedo" Carroll, Chip Hawkes, Brian Poole, Jay Black, Rick Gretch…
Listen To The Podcast
10/30/2020
Halloween, Full Moon, What Could Go Wrong?
New releases from Rachel Garlin, Shaun Murphy, Brigitte Purdy, The Immediate Family, The Dirty Knobs, Devon Gillfillian, Dave Alvin, Little Feat… From the musical pantry Brian Setzer Orchestra, Wayne Shorter, Steel Pulse, The Knitters, Aretha, Elton John, John Lennon, Amy Winehouse, Ukele Orchestra of Great Britain, The Specials, Reverend Freakchild, The Zombies, Jimmy Buffett… Birthdays for Grace Slick, Timothy B. Schmidt, Peter Green, Denny Laine, Otis Williams…
Listen To The Podcast
10/26/2020
Remembering Jerry Jeff Walker & Paul Barrere, Plus A New Dirty Knobs Song
New releases from Shabaka Hutchings, Ace Of Cups, Norah Jones, Michael Franti, Satah Jarosz… From the musical pantry Black Pumas, Umphrey's McGee, Tom Rush, Cindy Santana, UFO, Skid Row, B.B. King, Frank Zappa, The Shadows… Birthdays for Byron Allred, Neal Matthews, Jon Anderson…
Listen To The Podcast