Monday Music Massage - Podcast Archive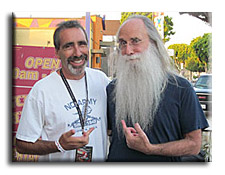 Your Monday Music Massage hosted by Andy Goldfinger. This program offers the listener all the colors of the musical spectrum. The pace of this show is undefinable. Each week will be a gathering of musical tastes to help you ease into the work week each and every Monday. Requests for songs or sets are more than welcome. We will broadcast semi-live podcasts once a week. Music from the old vinyl recordings some of you may remember will emanate as we use the way back machine, so stay tuned. It is easy to subscribe to the podcasts.
Podcast Archive
To download any of the podcasts below to your computer or iPod right click your mouse on the archive link and for FireFox choose "Save Link As" and save it to your hard drive, and "Save Target As" for IE, to download the podcast to your computer desktop.
Displaying 1 thru 25 of 93 Podcasts
Air Date
Title
10/03/2016
Whew, Made It Through The Weekend, It's Semi-live Radio
New releases from St. Paul & the Broken Bones, Joey Alexander, Dawes ... Easing you into the week Dr. John, Van Morrison, Police, Walter Trout, The Wood Brothers, Tina Turner, Wynton Marsalis... Birthdays for Stevie Ray Vaughn, Lindsey Buckingham. There is news from the less intelligent corners of the planet plus live musical happenings spanning the globe, and this day in the annals of time. It's a podcast folks (monday.flyingeye.com), you can listen anytime!
Listen | Download Podcast
09/26/2016
New Software, New Sound, Truly Semi-live Now
New releases from Timothy B. Schmit, Dwight Yoakam, Kansas ... Easing you into the week Norah Jones, Little Feat, Jimmy Smith, Phil Collins, Creedence, Dire Straits... Birthday for Marty Robbins, Craig Chaquico. There is news from the less intelligent corners of the planet plus live musical happenings spanning the globe, and this day in the annals of time. It's a podcast folks (monday.flyingeye.com), you can listen anytime!
Listen | Download Podcast
09/12/2016
Get Your Monday Groove On, It Helps, Really
New releases from Willie Bobo, Steel Toed Slippers, St. Paul & the Broken Bones ... Easing you into the week Larry Carlton, Michael Franti & Spearhead, Johnny Mathis, Ruth Brown, The Mavericks, Ron Tanski, Brigitte Rios-Purdy, The New Basement Tapes... Birthday for Barry White Maria Muldaur. There is news from the less intelligent corners of the planet plus live musical happenings spanning the globe, and this day in the annals of time. It's a podcast folks (monday.flyingeye.com), you can listen anytime!
Listen | Download Podcast
09/05/2016
It's Labor Day 2016, There Ain't No Work Songs Today
New releases from Ian McFeron, Richie Dave Porter ... Easing you into the week NRBQ, The Meters, Brigitte Rios-Purdy, Classics 4, John Cannon, Carl Verheyen, Curtis Mayfield... Birthday for Buddy Holly, Freddie Mercury. There is news from the less intelligent corners of the planet plus live musical happenings spanning the globe, and this day in the annals of time. It's a podcast folks (monday.flyingeye.com), you can listen anytime!
Listen | Download Podcast
08/29/2016
Welcome To The Work Week
New releases from Eric Clapton, Paul Simon, Allen Toussaint... Easing you into the week Michelle Shocked, Moody Blues, Thelonius Monk, Loggins & Messina, Dr. John, Adam Ant, Mavis Staples... Birthday for Michael Jackson. There is news from the less intelligent corners of the planet plus live musical happenings spanning the globe, and this day in the annals of time. It's a podcast folks (monday.flyingeye.com), you can listen anytime!
Listen | Download Podcast
08/22/2016
The Melting Has Subsided, Now Get To Work
New releases from Bun E. Carlos, Eric Clapton, Ron Tanski... Easing you into the week Snarky Puppy, The Hiwaymen, War, Chris Isaak, Jimmy Buffett, Todd Snider, Jimmy Cliff, Little Feat, Magic Music, Albert Lee & Hogan's Heroes (w/ Bobby Cochran), Pink Martini and much more. Birthdays for Keith Moon, Joe Strummer, David MArks... There is news from the less intelligent corners of the planet plus live musical happenings spanning the globe, and this day in the annals of time. It's a podcast folks (monday.flyingeye.com), you can listen anytime!
Listen | Download Podcast
08/15/2016
The Heat Is On To Start The Week Off, Sheeeesh
New releases from Eric Clapton... Easing you into the week Pressing Strings, Ray Davies, Carly Simon, Don Henley, Shaun Murphy, Bobby & The Midnites (w/ Bobby Cochran), Wildsteed, Quicksilver Messenger Service and much more. Birthdays for Peter York, David Crosby, Tom Johnston, Bill Pinkney... There is news from the less intelligent corners of the planet plus live musical happenings spanning the globe, and this day in the annals of time. It's a podcast folks (monday.flyingeye.com), you can listen anytime!
Listen | Download Podcast
08/08/2016
Yes We Are Back With A Fresh Batch Of Monday Gumbo For Ya
New releases from Brigitte Rios-Purdy, Henry Holden, Ron Tanski... Easing you into the week Chuck Prophet, Traffic, Joni Mitchell, Dawes, B.B. King, Alabama Shakes, Jack Johnson, Claude Bolling and much more. Birthdays for Billy Henderson, John David... There is news from the less intelligent corners of the planet plus live musical happenings spanning the globe, and this day in the annals of time. It's a podcast folks (monday.flyingeye.com), you can listen anytime!
Listen | Download Podcast
07/04/2016
Happy 4th Of July, What A Show In Store
New releases from Allen Toussaint... Easing you into the The Band, John Mellencamp, Dwight Yoakam, James Brown, Brigitte Rios-Purdy, Richie Barron, XTC, Wallflowers and much more. Birthdays for Paul Simon, Ralph Johnson, Robbie Robertson... There is news from the less intelligent corners of the planet plus live musical happenings spanning the globe, and this day in the annals of time. It's a podcast folks (monday.flyingeye.com), you can listen anytime!
Listen | Download Podcast
06/27/2016
Here We Are, It's A Monday Happening
New releases from The Avett Brothers,Bruce Hornsby & The Noisemakers, Mumford & Sons, Paul Simon... Easing you into the Amilia K. Spicer, Louis Armstrong, Bobby Womack, Marty Robbins, Howlin Wolf, Lucinda Williams and much more. Birthdays for Joey Covington, Bruce Johnston... There is news from the less intelligent corners of the planet plus live musical happenings spanning the globe, and this day in the annals of time. It's a podcast folks (massage.flyingeye.com), you can listen anytime!
Listen | Download Podcast
06/20/2016
Welcome To Your Monday, A New King Has Been Crowned, And He's From Cleveland
New releases from Red Hot Chili Peppers, Ron Tanski, Bonnie Raitt... Easing you into the week Dave & Phil Alvin, Barenaked Ladies, Ultravox, The Rascals, Keb Mo, Stevie Ray, Neil and much more. Birthdays for Lionel Richie, Kris Kristofferson, Chet Atkins, Ray Davies... There is news from the less intelligent corners of the planet plus live musical happenings spanning the globe, and this day in the annals of time. It's a podcast folks (massage.flyingeye.com), you can listen anytime!
Listen | Download Podcast
06/13/2016
Surviving The Weekend Seems To Be A Chore These Days
New releases from Band Of Horses, Paul Simon... Easing you into the week Tony Phillips, Stills Young Band, Dave Brubeck, The Rascals, Graham Nash, The Jam and much more. Birthdays for Jr. Walker... There is news from the less intelligent corners of the planet plus live musical happenings spanning the globe, and this day in the annals of time. It's a podcast folks (massage.flyingeye.com), you can listen anytime!
Listen | Download Podcast
06/06/2016
We Are Getting Closer To The Sun, We Remember Muhammad Ali
New releases from Miles Davis & Robert Glasper (feat. Stevie Wonder), Bonnie Raitt, EC, Ron Tanski... Easing you into the week Rickie Lee Jones, Mark Knopfler, Shaun Murphy, Chris Issak, the Platters, Jake Shimabukuro, Brigitte Rios-Purdy, Taj Mahal, Roy Orbison and much more. Birthdays for Michelle Phillips... There is news from the less intelligent corners of the planet plus live musical happenings spanning the globe, and this day in the annals of time. It's a podcast folks (massage.flyingeye.com), you can listen anytime!
Listen | Download Podcast
05/30/2016
It's A Memorial Day Spectacular
New releases from Diana Rein, Radiohead, Pat Metheny... Easing you into the week G. Love, Dire Straits, Snarky Puppy, The Doors, Bill Withers, Dixie Chicks, David Lindley and much more. Birthdays for John Paul Jones... There is news from the less intelligent corners of the planet plus live musical happenings spanning the globe, and this day in the annals of time. It's a podcast folks (massage.flyingeye.com), you can listen anytime!
Listen | Download Podcast
05/23/2016
Shapin Up To Be A Beautiful Monday, Get Your Music On
New releases from Ron Tanski, Shaun Murphy, YoYo Ma and the Silk Road Ensemble, Diana Rein ... Easing you into the week Neil Young, John Stowers, Gene Krupa (feat. Ray Triscari), Joni Mitchell, Al Green, Stevie Ray and much more. Birthdays for Bob Dylan, Bernie Taupin... There is news from the less intelligent corners of the planet plus live musical happenings spanning the globe, and this day in the annals of time. It's a podcast folks (massage.flyingeye.com), you can listen anytime!
Listen | Download Podcast
05/16/2016
Now That Was A Fast Weekend, Gotta Ease In
New releases from Snarky Santana, Ron Tanski, Keb Mo, YoYo Ma and the Silk Road Ensemble ... Easing you into the Bela Fleck & Chick Corea, Gedeon Luke & The People, Van Morrison, Delbert McClinton, Robert Plant, Ella Fitzgerald and much more. Birthdays for Steve Winwood, Mary Wells, Stevie Wonder, Richard "Magic Dick" Salwitz, Jack Bruce... There is news from the less intelligent corners of the planet plus live musical happenings spanning the globe, and this day in the annals of time. It's a podcast folks (massage.flyingeye.com), you can listen anytime!
Listen | Download Podcast
04/25/2016
The Dominoes Keep Falling, We Remember Billy Paul & Lonnie Mack
New releases from Bonnie Raitt, Peter Wolf, YoYo Ma, Keb Mo... Easing you into the week Jason Mraz, Steve Lukather, Kinky Friedman, Nat King Cole, B.B. King, Linda Ronstadt, Lonnie Mack, Jason Sinay, Blind Boys Of Alabama and much more. Birthdays for Barbara Striesand, Stu Cook, Jerry Leiber... Odd news from around the globe, locations for live musical experiences and so much more. It's a podcast folks (massage.flyingeye.com), you can listen anytime!
Listen | Download Podcast
04/18/2016
It's A Beautiful Day In The Neighborhood, Even If It's A Monday
New releases from Peter Wolf, The Lumineers, SANTANA, Mayer Hawthorne, Graham Nash... Easing you into the week Ringo Starr, Miles Davis, Toots & the Maytalls, Shaun Murphy, Genesis and much more. Birthdays for Sip Spence, Alan Price... Odd news from around the globe, locations for live musical experiences and so much more. It's a podcast folks (massage.flyingeye.com), you can listen anytime!
Listen | Download Podcast
04/11/2016
Time To Get The Week Started, Music Is The Only Way
New releases from Mayer Hawthorne, Bonnie Raitt, Graham Nash... Easing you into the week Fleetwood Mac, Chris Issak, Brigitte Rios-Purdy, Paul Kanter, Bob Dylan, Yo Yo Ma, Chicago and much more. Birthdays for Herbie Hancock & Brian Setzer... Odd news from around the globe, locations for live musical experiences and so much more. It's a podcast folks (massage.flyingeye.com), you can listen anytime!
Listen | Download Podcast
04/04/2016
Just One Word, Baseball!
New releases from Umphrey's McGee, Bonnie Raitt, Richie Dave Porter... Easing you into the week George Benson, Staples Singers, Annie Piper, Tedeschi-Trucks Band, Keb Mo, Hugh Laurie, Little Feat, Steel Toed Slippers, Roy Orbison and much more. Birthdays for Berry Oakley, Hugh Masekela, Muddy Waters... Odd news from around the globe, locations for live musical experiences and so much more. It's a podcast folks (massage.flyingeye.com), you can listen anytime!
Listen | Download Podcast
03/28/2016
Time For Your Post Easter Recovery Music Massage
New releases from Jeff Buckley, Graham Nash, Joe Bonamassa, Dion, Hayes Carll... Easing you into the week Rolling Stones, Sade, Robert Plant, Ron Tanski, Boz Scaggs, Amilia K. Spicer, Mayer Hawthorne, Al Green, Stanley Jordan and much more. Birthdays for Sarah Vaughn, Tony Banks... Odd news from around the globe, locations for live musical experiences and so much more. It's a podcast folks (massage.flyingeye.com), you can listen anytime!
Listen | Download Podcast
02/22/2016
Time To Slow This Ride Down A Bit
New releases from Anni Piper, Snarky Puppy, Lake Street Dive, Graham Nash... Easing you into the week Joni Mitchell, Grateful Dead, Jason Sinay, Amy Helm, Hugh Laurie, Son Vo, The Doors, David M'Ore and much more. Birthdays for Rusty Young... Odd news from around the globe, locations for live musical experiences and so much more. It's a podcast folks (massage.flyingeye.com), you can listen anytime!
Listen | Download Podcast
02/15/2016
The Post Valentine's Recovery Music Massage
New releases from Joe Jackson, Lucinda Williams, Rickie Lee Jones... Easing you into the week La Santa Cecilia, Crooked Eye Tommy, Amy Winehouse, Ron Tanski, Ella Fitzgerald, John Mayer, Jack Johnson, Aretha Franklin and much more. Birthdays for John Helliwell, Mick Avery... Odd news from around the globe, locations for live musical experiences and so much more. It's a podcast folks (massage.flyingeye.com), you can listen anytime!
Listen | Download Podcast
02/08/2016
Super Bowl 50 In The Books & We Remember Dan Hicks
New releases from Lucinda Williams, Elton John, David Bowie, Steel Toed Slippers, Leon Bridges... Easing you into the week Taj Mahal, Chuck Leavell, Boz Scaggs, Miles Davis, Brigitte Rios-Purdy, Mark Knopfler, Robert Plant and much more. Birthdays for King Curtis, Fito De La Parra, Carole King... Odd news from around the globe, locations for live musical experiences and so much more. It's a podcast folks (massage.flyingeye.com), you can listen anytime!
Listen | Download Podcast
02/01/2016
Time To Get This Week Started & We Remember Signe Anderson
New releases from Joe Jackson, Rickie Lee Jones... Easing you into the week John Mayer, Amilia K. Spicer, The Doors, Crooked Eye Tommy, Tom Jones, Lyle Lovett, John Coltrane, The Wood Brothers and much more. Birthdays for Don Everly, Rich Williams, Graham Nash... Odd news from around the globe, locations for live musical experiences and so much more. It's a podcast folks (massage.flyingeye.com), you can listen anytime!
Listen | Download Podcast
Page 1 2 3 4 Show All