Flying Eye Radio Network's Dusty Street
Steve Cosio | Geno Michellini | Dusty Street | Andy Goldfinger
---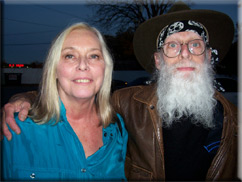 She started out in San Francisco underground FM radio in 1969 when there were limitless possibilities as to where this art form could take you. They were truly creators of a "theatre of the mind" that took  you on wild and exciting musical adventures. Our shows were created out of our love and knowledge of the music and reflected our desire to educate as well as entertain the listeners.

Radio has always been my greatest love and like all insane acts I keep doing the same thing over and over. On Mondays she will turn into the "Madame of Music on the Internet." That's right she will be right here on the Flying Eye Radio Network every single Monday, so stay tuned.

There's no reason to go into what radio has become, so let's talk about what it may be…. Dusty's "FlyLow Show" on the Flying eye Radio Network has reopened the wonderful world she fell in love with back in San Francisco. I no longer have to sit and stare at thousands of records, tapes and CDs. They now can be played and heard with a mere click of a mouse. Oh-Oh, I said mouse, and in this house that's fair warning to watch for flying cats.