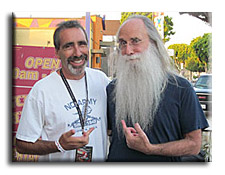 From 1982-1989 Andy Goldfinger was one of the most sought after Disc Jockeys in the country, in more ways than one. After nearly a decade in the number 2 market in the country the attention garnered as a relentless rebel without a clue at famed 88.5FM KCSN, became unbearable. So what started out as a sabbatical became an 18 year hiatus fraught with adventure and intrigue, most of which cannot be repeated for fear of retaliation by covert operatives. Now, after all this time, finally free from the demons that plagued him 18 years ago, he has returned to the airwaves via the Podcast, launching the Flying Eye Radio Network.
The Flying Eye Radio Network is a philosophy. All music regardless of genre can co-mingle and coexist in one place. There are no lines of this can be played and this cant. If we like it you can expect to hear it. If we think you will like it you will hear it. The unsigned local musician is often the gem that no one will hear except on the Flying Eye. At Flying Eye you will hear the obscure, vinyl, there are no limits. Musical Gumbo for your ears with a bit of lunacy and madness mixed in. Flying Eye Radio Network will offer you the listener a confluence of music that blurs all lines that exist, mixing jazz, reggae, classic rock and roll and country. Old interviews with some interesting characters, and new ones as well. Requests for songs or sets are more than welcome.
Flying Eye is the brain child of Andy (Styne) Goldfinger, one of the première promoters of local talent during the 1980's. Goldfinger promoted events at all the major venues throughout the Los Angeles area including, the Troubadour, Reseda Country Club, Stage West, Madame Wong's West, Griffith Park, The Palomino, Gazzarri's, the Central, and the Topanga Community House. Every facet of event production and promotions were handled by Flying Eye including artist booking, venue location, advertising, security, sound, concessions, payroll, ticket production, and sales.